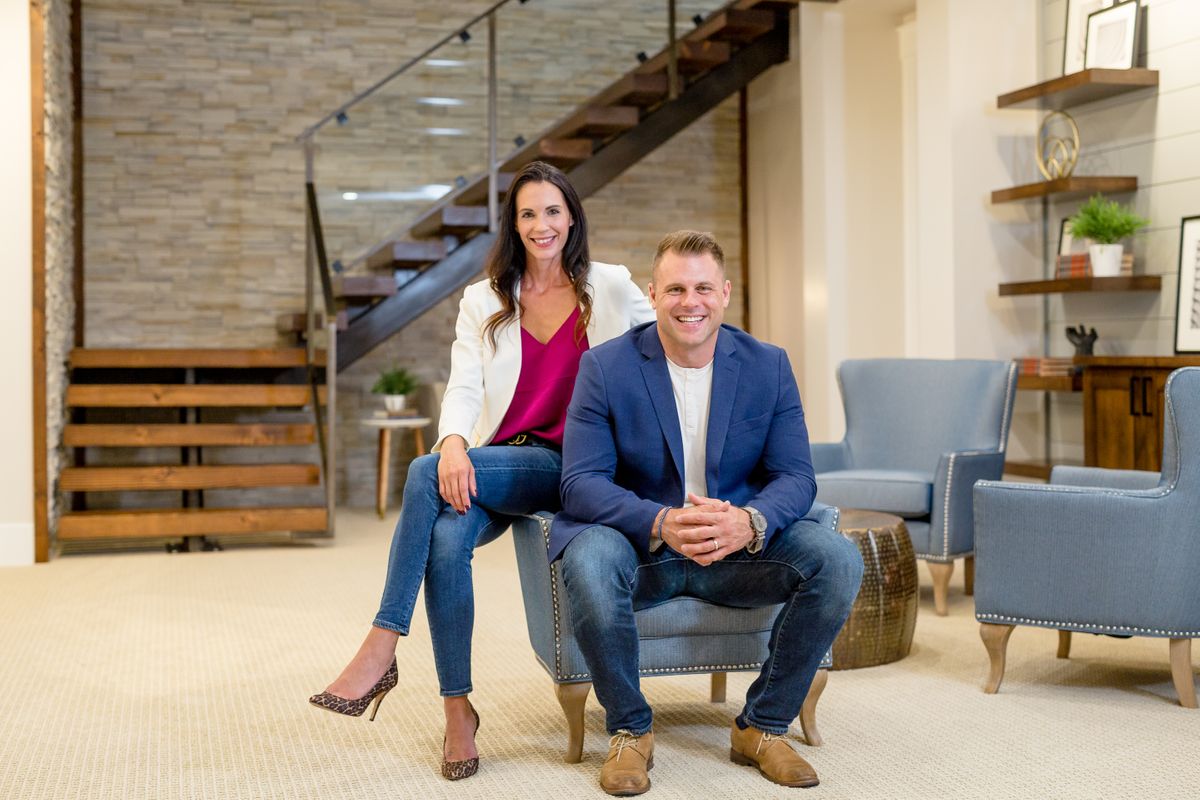 There Are a Million Ways to Make a Million Dollars in Real Estate
Casey Jagoras
There are a million ways to make a million dollars in real estate; This is ours.
It's not rocket science, but it also won't happen overnight.
Real estate is all about playing the long game. It takes patience, consistency, and dedication. You don't need a masters degree in economics or finance, but you will need to have just enough courage to take on calculated risk.
1. Start Simple
Keep it simple and just focus on getting into the market by purchasing your first home.
My husband and I purchased our first property as newlyweds in 2011. We purchased a 3 bed, 3 bath, charming home for $205,000. It had base level finishes and a large unfinished basement. It was quaint and the price was right.
We lived in this home for almost three years and in that time we made it great for us; but in a neutral way anyone would love. We went about it with the mindset that we are going to make this feel like home; however, we aren't going to get so emotionally invested in it that we wouldn't sell if the market was right and there was plenty of equity on the table.
While living there we were able to upgrade the kitchen finishes, finish the basement, improve the curb appeal and create a backyard entertaining space. These upgrades not only looked great but they gave our home more value. By finishing the basement we added about 1000 sq.ft and an additional bedroom and bathroom.
The economy was slowing climbing back from the 2008 recession and we had been in the home for more than two years; which allowed us to avoid capital gains tax on our profit. It was a good time to have a real estate agent over to get an understanding of what we could sell it for.
After the consultation with our real estate agent, we realized with our loan pay-down over the last few years and the projected sales price, we could walk away with $85,000 ... tax free cash. That was enticing enough for us to put the house on the market.
I used my interior design expertise to help the home shine. Our agent mentioned the open house visitors all thought it was the show home. Long -story-short, It sold quick and at the price we wanted.
2. Move Sideways
We found a house for $330,000 with tons of potential. We will refer to this property as Park. Even though it was $125 K more than our First Home we knew we could afford it with the sale proceeds.
Our First Home was in a metro district resulting in higher property taxes. Our second house, Park, had less in property taxes - that coupled with the $85 K (which we used part of towards our down payment) allowed for us to get a home that was almost twice the size, in a better area, for the same mortgage payment we were used to. Who knew!? We were thrilled.
This is what's called moving sideways. We were essentially in the same situation but in a better property. Like I said, Park had a lot of potential... which is a nice way of sayings it was pretty dated. We knew we could handle it and weexcited to make it our own.
We went in to this property renovation with the idea that we were going to make it what we wanted so that if we ended up staying forever we would be happy; but if the situation was right we would sell.
We started with installing new carpet to the areas that hadn't been updated yet, upgraded the lights, re-did the railings, renovated the kitchen, upgraded the appliances, and updated the bathrooms.
3. Use Leverage
Park was quickly becoming one to the most beautiful homes on the block. We knew we increased the value greatly with our renovations and the market was continuing to pick up.
When we were about 1 year into our home ownership we reached out to the bank to see if we could apply for a HELOC - Home Equity Line of Credit. This is when the bank appraises your property and determines its value in order to give you a line of credit based off its equity.
The appraisal came back at $400,000. The bank would loan on 75% of our equity. So if our loan was around $330,000 minus the $400,000 appraisal gets us $70,000 of equity. The bank will loan up to 75% of the $70,000 which is $49,000.
We now had a line of credit with the bank for $49,000 thanks to our HELOC. For those of you who don't know what a HELOC is - Its like a credit card in the sense that you only pay back what you borrowed plus interest. If we never used it, we would always have that money sitting there for a rainy day.
4. Scale Up
We were at a cross-road, we could save this HELOC money for a rainy day or we could use it..
We had been listening to the Bigger Pockets podcast and had recently read The Book About Rental Property Investing by its host Brandon Turner. We were inspired and getting educated on being investors.
We crunched the numbers and decided that using half of our HELOC plus half of the money left over from selling our First Home as a down payment on an income property was a calculated risk we were willing to take.
We found a cute little bungalow home in downtown, just steps from shopping and restaurants. It was technically only one bed, one bath but had an odd layout I knew we could fix and potentially add an additional bedroom. There was also a unfinished basement with a separate entrance and the lot was zoned to allow for a multifamily building for $240,000. We knew that what we found was something special.
5. Enlist the BRRR Strategy: BR
Buy, Renovate, Refinance & Repeat makes up the BRRR strategy.
B: Buy - We bought this Rental now it was time to renovate it. We fixed the choppy floor plan by moving the over-sized laundry/mud room into the stairwell, framing it off and eliminating the basement access. We added a nice stack-able washer & dryer. What was formally the awkward mudroom/laundry room space now became a functioning 2nd bedroom. This was a quick, easy and cost effective way to maximize the rent-ability of this property.
In the first 45 days of owning our Rental we had completed the conversion to a two bedroom, marketed it for rent and signed our first lease. The lease deposit was paid and first months rent was in prior to us getting our first mortgage statement bill. We were already in the black, operational and cash flowing.
R: Renovate - Then came phase 2. We had this large unfinished basement, with a separate entrance, plenty of street parking and even a yard space. We sought out a general contractor, confirmed with the city zoning and ironed out our plan to convert this property into a legal top/bottom duplex.
It took 9 months, and $40,000 which came from the rest of the HELOC and our savings to finish the duplex. Our mortgage on the Rental was $1025. The top tenants rent was 1500 and the bottom was 1000. We were cash flowing $1475 a month and quickly making our investment back.
The icing on the cake was the depreciation we were able to claim for our primary residence and the rental property which decreased our taxable income. We were finally keeping more money than we were being taxed. Game changer.
* The other two R's (Refinance and Repeat) come later.
6. Optimize Cash Flow
Flash forward a year or so - both tenants of our top/bottom duplex were moving out and it was almost summer. We could choose to find another year long tenant or we could choose to take yet another calculate risk and convert the units to summer vacation rentals.
We busted out pen, paper & calculators and determined if both duplexes were 100% booked each month our break-even would be $18 per night. This means we would break even on our $1025 mortgage by charging only $18 per night. Well that's definitely do-able! What if they were only 50% booked for the month? - we would only need to make $34 dollars a night... that's certainly do-able as well!
We invested $5000 into the furniture, decor and supplies needed to get these up and running on Airbnb. I used my interior design skills to make these bungalow apartments as inviting as can be. I took photos capturing their charm, wrote attention crabbing bios and boom we were up-and-running.
We charged $90 - 130 per night, on each duplex, and were 99% occupied with bookings all summer. We took our regular rental cash flow from $1475 to $5500 A MONTH.
In two summers we made back out entire $40 K investment in converting the basement unit.
7. Make a Move Diagonal
Now we had a optimal cash flowing Rental property, and our newly updated primary residence. It was now 2016 and we were coming up on our 2 year anniversary in Park.
The kiddos were almost school age and we had the stark realization that the school district they would be going into was less than ideal. We desperately wanted them to be in the neighboring cities school district.
We started our search and found a property that would do. We put in an offer, went under contract and got our ducks-in-a-row to list Park later that week.
Park went up for sale at $450,000 despite local agents saying it was too high. My husband and I were willing to walk away from the possibility of moving if we could not get the price we wanted. That's what is was worth it us, because you see, you had begun to get attached to it.
I knew that what I had created was worth that price, we only needed one person to love it, like we did, to sell. And that's exactly what we got. All cash offer, quick close and for $5000 more than the list price - because there was so much interest.
This allowed us to pay off the Park house mortgage, the HELOC we had maxed out and have money left for our down payment on the new home, we'll call this one Hummel. Switching one home for another is a sideways movement, but we also paid off an additional Loan so it make for a upwards motion; hence diagonal.
8. Finish the BRRR Strategy: RR
Now we had Hummel, Less debt, and the cash flowing Rental. So then came the last steps of the BRRR Strategy.
R: Refinance - We had the Rental property appraised as part of our refinance. Remember we purchased it as a 1 bed, 1 bath home and converted it into a legal duplex - with two: 2 bed, 1 bath top/bottom units. This added a TON of value to this property.
The purchase price was $240,000, we had owned it for about 16 months, renovated it and optimized the cash flow. It appraised for $325,000.
My husband and I had two options, we could refinance the remaining balance left on the loan and get a slightly lower interest rate with lower monthly payment - OR - we could do a Cash Out Refinance and set the new mortgage up at the appraised value and take out the difference in cash.
We chose cash - The rental was already making plenty of money on its own and getting the mortgage payment lower wasn't a big priority. So we initiated a new mortgage at $325,000 and since we only really owed $240,000 we got to take the difference between the two. Which resulted in a $85,000 check for us... Tax free & off the books- check for us! Yes its legal Ya'll!
This made our Rental property mortgage a little more expensive... but I have already shared with you what that income looked like; so you know that was of zero concern.
R: Repeat - We had $85 K cash, now came time to re-invest it into the market.
9. Scale Up Again
We now owned a Townhouse we purchased with the cash-out-refi money, our primary residence Hummel, and the Rental Duplex.
In the first 45 days of owning the Townhouse we had signed our first lease. The lease deposit was paid and first months rent was in prior to us getting our first mortgage statement bill. We were already in the black, operational and cash flowing. Sound familiar?
10. Use More Leverage
Updating had began at our newest primary residence Hummel. We had added a lot of value with our updates so we pushed forward with another HELOC.
Hummel's equity in the form of a HELOC was used as leverage to purchase yet another income property.. this is beginning to sound redundant isn't it? I think you get the idea.
11. Get Serious
This can mean different things to each person but it's as simple as getting more educated - buying more books, attending real estate Meet-Up groups, getting a mentor or getting your real estate licence.
We did all of the above.
90% of all millionaires made their money in real estate .... read that again.
If you are really serious about being an investor and creating a legacy to pass down to your children, get some skin-in-the-game and put in the time to learn.
It will take patience, consistency, and dedication.
12. Your W-2 Income is Your Lifeline But Not the Catch-All
Your W-2 income is crucial in getting the financing in order to get approved for multiple mortgages. However you don't have to make as much money as you might think.
The leases and accounting documents that we provided from all our income properties showed the amount of cash flow we were making from our investments. That cash flow was applied towards our income, this helped greatly.
You don't have to make a million dollars in order to get approved for a million dollar portfolio of loans, but you do need to have steady W-2 income and cash flowing assets.
13. Re-Cap
In the nine years that my husband Samson and I have been in real estate, we have purchased 7 properties, done 4 live-in-flips and acquired 3 income properties.
It's not as hard as you might think; it ultimately comes down to grit & guts.
4 Things to Remember:
- Live in your primary residence for 2 yrs. to avoid capital gains tax.
- Leverage your equity in order to have more purchasing power.
- Great interior design is key to selling quick & for the best price.
- Your greatest asset is having the courage to take on calculated risks.